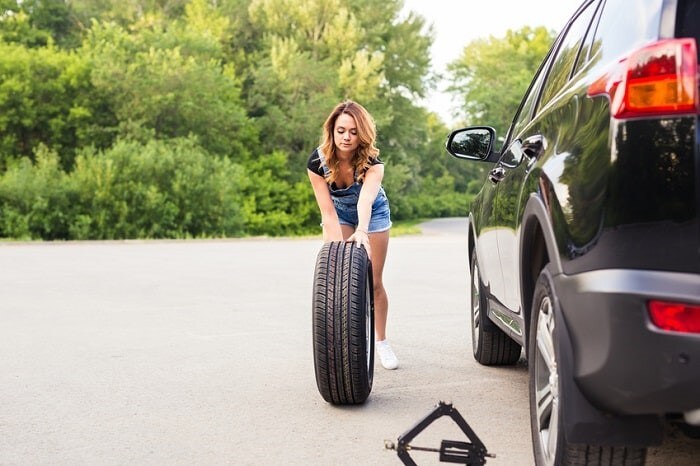 When you visit Hall Hyundai Chesapeake, you'll find a Virginia Hyundai dealer that strives to create the best dealership experience possible. Regardless if you're looking for a new vehicle or are hoping to receive some much-needed maintenance, we've got all your auto-related needs covered.
In striving to be your one-stop shop for all your automotive needs, we're excited to share with you a complete guide to changing a flat tire. Flat tires can seem to come out of nowhere, and for this reason, you should always be prepared for the worst-case scenario.
For starters, you should ensure your vehicle is always equipped with the necessary tools. These tools include a car jack, a wrench, an air pressure gauge, and an air compressor. Having this equipment in your vehicle at all times can mean the difference between taking to the road again and being stranded, waiting for roadside assistance.
If you do find yourself with a flat, the first thing you should do is pull over to a space that gives you enough room to change your tire safely. Once stopped, use the car jack to raise your vehicle off the ground. With the flat tire lifted, use the wrench to loosen up the lug nuts holding the tire in place. With the lug nuts taken off, remove the flat tire and store it somewhere safe. Before installing the spare tire, first check the air pressure levels using the air pressure gauge. If the spare tire's air pressure is low, use the air compressor to fill it up to optimal levels. Using the wrench, secure the lug nuts once the new tire is on, then lower your vehicle back to the ground.
While you may have four working tires, your job is far from done. It is always worthwhile to have your flat tire looked at by a car care expert, which you can find right here. At Hall Hyundai Chesapeake, our Hyundai service team goes the extra mile to ensure your vehicle is in prime working order in no time.